Soda blasting
Soda blasting, an eco-friendly blasting solution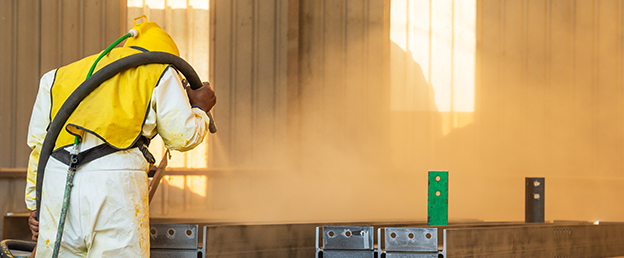 What is soda blasting?
Soda blasting is a revolutionary and innovative cleaning method that is extremely safe, quick, cost-effective, and environmentally friendly. Specially formulated granules of sodium bicarbonate are blasted through a controlled compressed air system. Upon its impact on the surface, the soda blasting creates an abrasive action that will lift off contaminates. Soda blasting is effective on a wide variety of surfaces and won't damage the surface itself.
Environmentally friendly
Soda blasting at Eco Clean is unobtrusive, non-abrasive, and environmentally friendly. The sodium bicarbonate used disappears easily and is non-toxic to humans and animals. Biodegradable materials are utilised in the process meaning that no harmful emissions are released into the atmosphere during the process. Soda blasting is also known for its water solubility.
Rust-free
One of the main reasons soda blasting is a popular solution is because the blasted surface rusts at a significantly lower rate compared to other sandblasted surfaces. This allows for a new coat to be effectively applied as soon as a few days following the first application.  
A gentle clean
Soda blasting is a great solution for surfaces that are usually damaged as a result of other abrasive blasting options. Soda blasting is ideal for a range of surfaces including wood, plastic, aluminium, stainless steel, and natural stones. Bearings, brickwork, and hydraulic cylinders are also among the materials that are often selected for soda blasting.